It's hot today. I'm not happy about that.
You see, I am a creature of the cold. I LOVE the cold. I'm happiest when my nose and fingers are nippy, the wind is blowing and I'm having to keep moving to keep warm.
This time last year, I was in the US. Lapping up the tail end of their autumn, in Wisconsin to be exact, where it was cold and windy. The lakes were starting to freeze, bits of snow were falling, sleet was around most days and one had to really rug up to go outside. It was delicious.
If I had my way, I'd be over there in the US and Canada for six months of every year. I'd head over about late October (ready for Halloween) and come back at Easter. That way I could enjoy Brisbane's gorgeous crystal clear and cool winter, but avoid the sticky, humid, breath-stealing summer. I'd have a white Christmas every year (oh boy that was fun last year, I was in Michigan) and be back here to enjoy jacaranda season. I'd get to see all my lovely friends over there, but still come home to those that are here in BrisVegas.
I'm trying to keep myself cool by remembering the delicious cold over in the US. Tramping around the streets of New York City, with my purple gloves on, watching the squirrels scamper through Union Square. Walking across a frozen river on a covered bridge in Frankenmuth, Michigan, all rugged up with gloves, scarf, woolly hat and my nose turning red in the cold. Stamping in snow in Chigago, making snowmen and hitting my friend Melissa on the butt with a big snowball.
This is the picture I have on my desktop wallpaper here at home at the moment: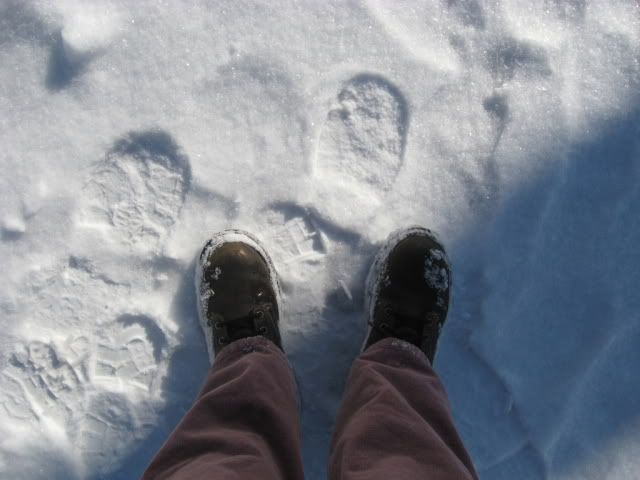 Yes, those are my feet, in Chicago snow.